MANDURAH
We have received the keys to our new Mandurah building. Services will be held there from 13th October 2019 and the official opening will be on 8th November.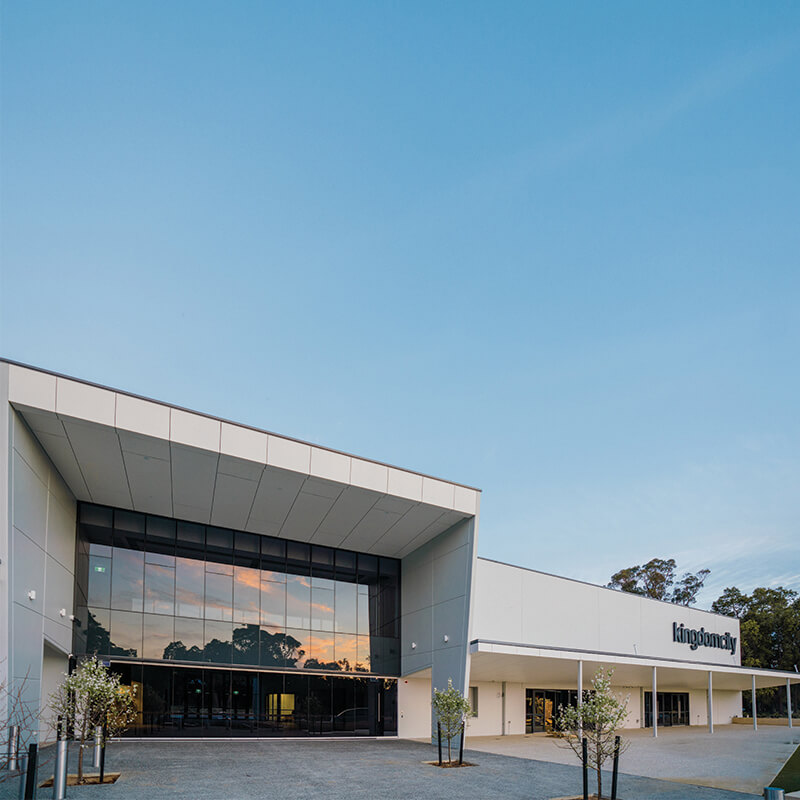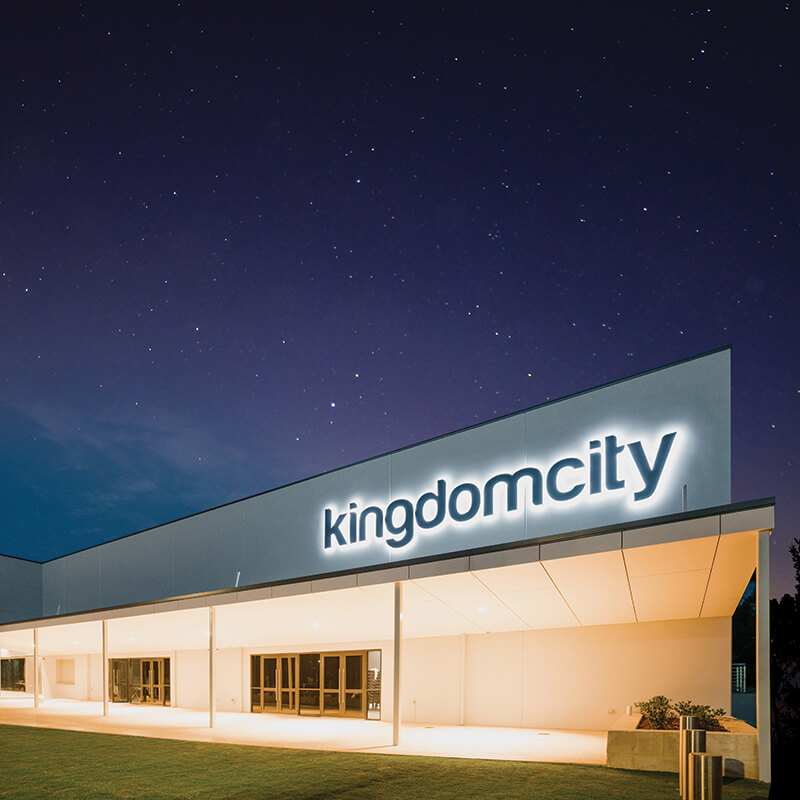 Dear Kingdomcity family,
As we continue together on this faith-filled mandate of establishing new territories for future generations throughout Perth, this page will provide periodic updates on the Perth Legacy Project, to keep you informed and included on our journey.
MANDURAH
The concrete tilt-up walls for our Mandurah building are currently being poured, with erection of them scheduled to start from the first week of February 2019. The current practical completion date is July/August 2019, following which our internal fit-out will commence.
From a finance perspective the sale of Mandurah Terrace, as well as Legacy Pledges fulfilled, have provided sufficient capital to fund the initial 40% required for the project.
The balance of funding required to deliver the project will be provided by a third-party financier. At present, drawdowns for progress payments are facilitated through our 40% portion. The amount to be financed through the third-party loan is $4.5M.
BUTLER
Currently, we are awaiting approval of our building license. To date, we have invested over $1M in the project which covers 50% of the land purchase price and consulting fees for engineering, council, etc.
We are, however, yet to secure a third-party financier to finance the project for a similar amount of finance as Mandurah.
The financier for Mandurah is open to financing the build for Butler, subject to completion of the Mandurah project. This decision is based on the internal policy of the financier to limit its financing of construction to only one project for a client at any time.
Alternatively, we can raise finance from a "big 4" bank, with the difference being that they may only finance an amount of $3.09M based on their loan to value ratios and other criteria they adopt for what they consider to be a specialised project of this nature.
Our current constraint is that we need to receive additional funds from the Legacy Pledges now or in the near future, in order to produce our share of funding first, before we can draw down on a loan.
We have received more than enough pledges to fund the Legacy Project, however only $1.120M of those pledges have actually been received. What we currently need is $2.722M in cash, if we were to proceed with a "big 4" bank and start construction ASAP or alternatively an estimated $1.875M, if we were to proceed with the same financier as for Mandurah, but start construction after the Mandurah building is completed.
Important to note is that we have not paused the Butler project and are awaiting receipt of our building license. We do however have a timing tension between when further funds from pledges will come in and which financier we will proceed with for Butler.
CANNING VALE
We have identified renovation works at Canning Vale to the extent of $975k which is estimated to be complete by December 2019. The work includes Kids facilities, air-conditioning, toilets, security, production, audio and lighting.
Our Canning Vale property currently has a mortgage of $2M, which along with the cost of the renovations are envisioned to be funded from Legacy Pledges received and operational surplus.
WANGARA
The main focus for our Wangara campus is to pay off our $2.9M mortgage.
SUMMARY OF FINANCES
During the lifecycle of the Legacy Project, we will have two further Miracle Offerings, that will contribute to the Legacy Project along with pledge funds received.
Legacy Project pledged to date is $5,317,293.34
Legacy Pledge funds received to date is $1,152,775.34
All numbers considered we are currently in need of raising cash of between $1.875M and $2.722M in the short term to start construction in Butler (depending on financier) and $975k to complete renovations in Canning Vale.
Overall, we need to raise approximately $16.2M to be debt free on all four campuses.
While we are confident that once these projects are complete, we can service our loans with continued wisdom and good governance, we are believing to eradicate the debt as quickly as possible, as the church continues to grow and remain healthy in all areas.
This update relates only to the Legacy Project and it is important for context to know that the overall the state of our current finances (from both an asset and income point of view) is very healthy and always has been over the last 7 years. Our Board, finance team and those who administer our daily operations continue to do so with diligence, good governance and wisdom.
Sincere thanks to everyone who has commenced sowing into the Legacy Project. If you have pledged sometime in the past and can't recall the number or would like to pledge to the Legacy Project, then please email us at info.perth@kingdomcity.com
In closing we would sincerely appreciate your heartfelt (and ongoing) prayer support to the Legacy Project in the following areas:-
Wisdom for all involved in stewarding the building and financing of these projects at every level.

God's increased favour and financial blessing on all those who are giving sacrificially to this project.

That God's people would be overwhelmingly blessed, that these projects will be complete with excellence and we would be debt free in an unusually quick time.
Thank you for standing together in unity as we continue to bring the reality of God to our world.
André Dique
Global General Manager
On behalf of
Kingdomcity Perth Eldership
IT'S MY HOUSE
OWNERSHIP
OWNERSHIP
The heart and mindset that takes personal ownership without selfish agenda defines the amazing people who have carried this church for years. If everyone plays their part, we can do this.
IT'S OUR HOUSE
UNITY
UNITY
The ownership of each and every person and family working together, each of them bringing their own gift but for a unified goal.
We go faster alone but we go further together.
IT'S THEIR HOUSE
COMMUNITY
COMMUNITY
We are building for the people who are not here yet. It is generational in nature and external in focus.
Only a truly selfless community sacrifice with this in mind.
IT'S GOD'S HOUSE
ETERNITY
ETERNITY
All that we do and give is ultimately unto the Lord because this is God's house. Jesus is building HIS church. HE is the founder, architect and builder and we get the privilege to extend the greatest cause on earth.
HOW TO GIVE
AUTOMATED GIVING & DIRECT DEPOSIT
To transfer funds using your own online banking facility, please use the following bank details for the Legacy Project:
Bankwest BSB: 306 089 ACC: 2652295

Please type "Legacy Project" in the transaction description.
LEGACY PROJECT ENVELOPES
Simply place your giving into this Legacy Project giving envelope. If you need any assistance our friendly team at the Giving Station would love to help you out!
CREDIT CARD GIVING

If you would like to give via Credit Card we have a secure online giving portal just for you. Just click on the "GIVE HERE" button below.
QUICK GIVE
You can give online using our secure online giving portal. Set up once by creating an account and easily give using your credit card. This can be used for one-off giving to The Legacy Project.